Coloradans love to have fun. And many of our good times are had at festivals, a glorious tradition that was started in our most alluring mountain towns some forty years ago. Some of the greatest festivals have been founded in Telluride, Colorado, and I'm sure we'll always rank as the frontrunner of all the festival towns. I can say with confidence that the biggest and best take place here in T-ride. It's likely largely due to our spectacular setting. Have I told you that it's drop-dead gorgeous here?
It didn't take long for the rest of the country—and countless people across the globe—to catch on to our festivals. Now the calendar year is marked by Telluride locals and fans from afar by our remarkable happenings. Telluride Blues & Brews bookends the summer festival line up for a glorious three-day extravaganza the third weekend of September. This year, due to the calendar, it comes early on September 14th, 15th and 16th. That just means it promises to be extra sunny and warm.
Blues & Brews (as it's affectionately called) is celebrating its 19th year this year. And what a year it promises to be. People can't stop talking about the line up that includes Phil Lesh & Friends, Gov't Mule, The B-52s (Oh yeah! Please tell me you'll play Rock Lobster.), Little Feat, The Chris Robinson Brotherhood, Trombone Shorty & Orleans Avenue and tons of other greats that will stir your soul and rock your body all weekend long.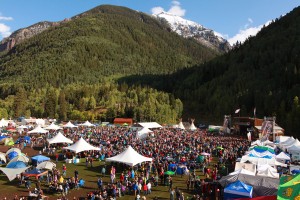 The Scene in Telluride Town Park During the Grand Tasting
You know who I'm really stoked about this year? MarchFourth Marching Band—yes! I saw this colorful group of musicians and entertainers last year in Telluride and they put on a show that was the highlight of my summer, the talk of the town for locals and visitors alike. Part New Orleans Mardi Gras band, part circus, this mobile big band spectacular puts on an extraordinary show. Nearly two dozen artists, bedecked in band uniforms as eclectic and mesmerizing as their sounds, dazzle onlookers with their every move. I felt like dancing for days after seeing them. They're going to be taking the Main Stage in Telluride Town Park during Blues & Brews on Saturday right after the Grand Tasting (of brews and other tasty libations). That promises to be one helluva hoopla!
Now here's another good part of the MarchFourth Marching Band/Telluride Blues & Brews love fest:  They are going to be playing at Mt. Village Sunset Plaza in Telluride, Thursday, September 13th from 5 to 7 p.m. And that's free! This is one of the best parts of all these wonderful festivals; in addition to the regular paying events, many shows are presented for all to enjoy. Thank you to all festival organizers for your generosity in making this possible. These freebies add a lot to the overall fun-loving spirit that reigns over our mountain towns during these festivals.
So get going with your plans now, if you haven't already done so. Tickets are selling fast and many events, such as the Juke Joints, are sold out. Line up your lodging as well. This promises to be a momentous Telluride Blues & Brews.
Thank goodness for mountain towns and their great tradition of festivals. I can't imagine a better way to close out the summer.
For more on my favorite parts of Telluride Blues & Brews and highlights from previous years, click here.
Thank you to Telluride Blues & Brews, Barry Brecheisen and Dino Perrucci for the above photos.