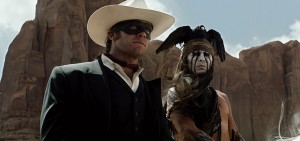 "Hi-Yo, Silver! Away!"
Such are the famous words shouted by the Lone Ranger as this masked man gallops off on Silver, his handsome white stallion, the same words shouted by kids throughout the decades as they head off on an adventure. Ever since the original radio show aired in 1933, through the popular TV series of the forties and fifties, across the pages of comic books and then highlighted in films, "Hi-Yo Silver!" has captured the excitement and dashing spirit of the West for the better part of a century.
Now we can delight in this catchphrase yet again, along with Kemosabe and other pieces of this story's popular culture including Lone Ranger badges, silver bullets and, of course, the charging melody of the William Tell Overture in Disney's new and greatly enhanced version of this American classic.
I was lucky enough to snag a sneak peek of this much touted film, the 2013 version of "The Lone Ranger," starring Johnny Depp and Armie Hammer, here in Telluride, Colorado this week. I had heard whispers of poor reviews, so I reeled in my expectations and decided that at the very least I'd marvel at all the great Western landscapes this movie promised.
Well, in truth, I had one rollicking time. I'm a lover of classic westerns and am not much of a fan of special effects and lots of video game-like shoot 'em ups. But it all worked for me. I loved the story, the humor, the acting, the settings and the many exuberant scenes of the rich, dark and gritty culture of the Old West portrayed in this film. And yes, I even appreciated many of the computer-generated images.
The landscapes are so wide, sweeping and spectacular that I'm sure many people are left with the thought that they're not real-that they're all one big fantasy. Many may perhaps be artificially embellished, but I can tell you they are all indeed real places located in my own backyard, at least by Western standards. All these awe-inspiring sites may be found within a five-hour drive of Telluride, Colorado, a town steeped in a Western history of its own. (The first bank Butch Cassidy robbed was situated in The Nugget Building, a historic landmark that anchors one street corner and now houses a fashionable eyeglass emporium.)
As the Lone Ranger and Tonto perform gutsy feats on horses, trains and by foot, the viewer marvels at iconic red red rock panoramas from Monument Valley (Utah and Arizona) and Moab, Utah, home of Canyonlands and Arches National Parks. when the quest for silver heightens, we're parachuted into glorious alpine vistas near Creede, Colorado. By movie's end, we sail into the lunar-like backdrop of New Mexico where I marveled at the views of Shiprock, a mighty rock monolith of a ship frozen within this barren landscape. The last closeup of Shiprock especially delighted me since in that image I perceived Sleeping Ute Mountain, a landmark sacred site to the Ute Indians, just outside of Cortez, Colorado and Mesa Verde National Park in the distance. Indeed, it made me appreciate even more all that we have within the Four Corners region and the outlying area.
Aside from entertaining, I imagine "The Lone Ranger" will inspire many folks to pack up the family and do a road trip out West. It's dramatic on film, however, seeing these stunning panoramas in real life is truly remarkable. And yes, they will inspire you to get up on a horse and yell "Hi-Yo, Silver! Away!"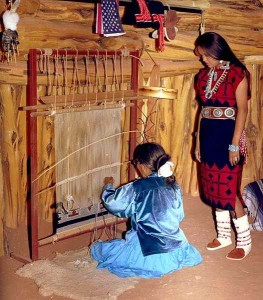 A Western Must: Goulding's Lodge, Monument Valley
Johnny Depp and the rest of the crew were holed up at this renowned lodge for many weeks during the filming of The Lone Ranger. Here, you're not only in the center of "the monuments" but you're also at the epicenter of western movie-making. The lodge also offers many different tours into Monument Valley along with cultural presentations and programs concerning the Navajos. Read Touring the Southwest with My Parents and On the Trail of Western Movie-Making Culture.
In and Around Creede, Colorado
Creede, a quaint little mountain town with a storied mining history, is a fun place to visit for a day or two as you travel through or near Wolf Creek Pass. I've not yet done a story on Creede, however, I do highlight Wolf Creek Ski Area and neighboring South Fork in my piece entitled Wonderful Wolf Creek.
Thank you to Disney and Goulding's Lodge for the use of the images in this post.