Valentine's Day is just a couple of days away, so it's time to get shopping. Whether it's for yourself, your love, your mom or dad or your Galentine, I suggest you pick up a few bottles of wine before you go forging for chocolates and flowers. There's nothing like getting giddy over sips of a delicious wine. Red, white or pink, velvety, fizzy or bubbly, wine–long the nectar of the gods–has been putting people in the mood for love for ages. Here are some of my recommendations for memorable, reasonably-priced wines for this holiday and always.
Sure to put you in a celebratory mood, this festive bubbly will dazzle you with its lovely blush/coral color and crisp palate. Remember to dabble some on the back of your lover's neck–this Brut Rosé is made for kissing.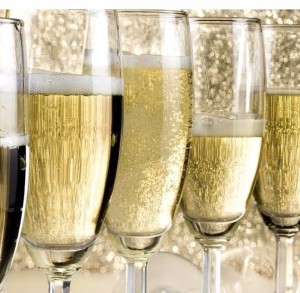 You might want to don a little black dress for sipping this sparkling wine. Like the other wines within the Chloe Wine Collection, this Prosecco exudes an elegance and chic in the image of the lovely Georgetta Dane, the head winemaker.
Surprise your love with your knowledge of wine and the ability to select a delightful Riesling from the Mosel Valley of southwest Germany. Vibrant layers of fruit balance out the zippy acidity of this reasonably-priced wine. I love its light fizz and pale straw color. Perfect with spicy Asian cuisine, a yummy ham sandwich or as an apéritif.
Robert Mondavi Winery Napa Valley Cabernet Sauvignon 2013
So you say he cooks? And he likes red meat? Pick him up a bottle of this luscious, deeply concentrated red and you'll win his heart all over.
Franciscan Winery Napa Valley Merlot 2013
Savor this smooth, full-bodied Merlot at home à deux over a home-cooked meal in front of the fire. Or pack a picnic of wine, cheese and your spirit of adventure and see how the afternoon plays out. Valentine's Day is on a Sunday this year, so you can make the romance last all day.
Calista "The Coast Range" Pinot Noir 2012
I love my pinot and this one is tops for all kinds of occasions from casual sipping or as an accompaniment to a fine meal such as wild mushroom risotto, roast leg of lamb or pork chops. This silky, light-to-medium bodied red is sure to become a favorite for Valentine's Day and always.
Looking for a new love language? Try one of the handcrafted fruit wines from this renowned Colorado vineyard. Flavors such as Apple Blossom, Golden Pear, Peach Passion, Elderberry and more evoke sentiments from temptation to truth. Check out The Connotations of Fruit in Art and Still Life Painting for the full range of symbolism throughout the ages. I'm going to a Galentine gathering Saturday evening and I plan to bring a bottle of St. Kathryn's Pomegranate, symbol of heavenly sweetness and fertility. (We're sure to savor some sweet sips and a few chuckles with that heavenly selection.)
If you live in Colorado and you truly want to woo your Valentine, plan a weekend getaway or day trip to lovely Palisade, Colorado to sample the St. Kathryn wines in person and spend some quality time with your love.
Henri's Reserve Champagne Club
Sign your love up to receive champagne from Henri's Reserve, an online boutique that showcases a curated selection of some of the finest champagnes of France. By opting for the Champagne Club membership, you can say I love you with bubbles all year long. Use the code Bonjour to receive a special 10% discount for Bonjour Colorado readers.
Happy Valentine's Day!