I love Westerns. I love the Denver Art Museum. I love the exhibition The Western: An Epic in Art and Film. Sorry for gushing but I think it's wonderful!
I saw it in Denver a few weeks ago and I had a smile on my face as I walked through every room of this beautiful show–once again DAM has done a magnificent job with this installation, which creates a setting that makes you feel as though you just stepped into the wild, wild West.
Tune into KOTO.org at 6:30pm MST tonight to listen to my Travel Fun interview with Thomas Brent Smith, co-curator of the exhibition The Western: An Epic in Art and Film. Even if you're not able to attend the show in Denver, which runs through September 10, you'll learn much about Westerns and why we love films and artwork that depict the great American West. Thank you, Thomas, for such an eloquent and articulate conversation about the show and why Westerns conjure up such an array of emotions for so many.
I'm feeling a little sentimental these days. Lately this golden season has flooded me with memories of two significant trips I took in the West at this time of year. The first occurred eleven years ago when I discovered the penetrating red rock landscapes of Moab, Utah during a road trip with the goal of where to settle in the West. The second happened in Monument Valley when I accompanied my parents on a trip-of-a-lifetime through southern Utah and then down to the Grand Canyon. (Visiting the Canyon had always been a dream of father's—little did he know he'd end up marveling at the awe-inspiring monuments of Monument Valley just as much.)
At each of these high desert destinations, I felt and continue to feel humbled by the panoramic vistas seemingly painted in every shade of red throughout this arid land. Here buttes, spires and pinnacles tower over you as though nature's standing guard in what sometimes looks like one of America's last great frontiers. It's no wonder some of the most iconic images of our country may be found in Moab and Monument Valley, Utah. The greatest westerns ever made were filmed here, specifically at two lodges that continue to pay tribute to the rich history of movie-making that occurred around their properties:  Red Cliffs Lodge in Moab and Goulding's Lodge in Monument Valley. The landscapes at and surrounding these ranches have, in fact, been so well preserved that movies, TV shows and commercials continue to be filmed here today. (Johnnie Depp was just at Goulding's last spring filming the new version of "The Lone Ranger.")
1. It's more fun listening to music when you're in motion than on solid ground.
2. The Durango Blues Train is put on by Steve Gumble, founder of the renowned Telluride Blues & Brews Festival; he and his staff know how to create memorable events. On the Blues Train, you can hop from car to car and rock on to great music from bands and solo acts from all over the U.S.
3. Not that you need an excuse, but this great train excursion gives you a reason to visit the fun-loving Western town of Durango, Colorado. Be sure to spend the night at either The Rochester Hotel or The Strater.
There's nothing like a good, old fashioned road trip to give you a terrific sense of freedom. Perhaps it's due to the fact that you go under your own steam–that you're not reliant on a plane, train, bus or boat to get you to your destination. The fact that you're the captain of your ship means that you can leave when you want, go where you want and stop at whatever strikes your fancy along the way. Maybe it's liberating because if you take your own vehicle, it's like bringing your personal living room on the road. Whatever the reason, road tripping is so damned much fun. And there's no doubt that it's even better in the great American West.
How about those Oscars? Wasn't it a great show? I was thrilled that I had seen most of the films nominated for an award here in our little mountain town of Telluride, Colorado way back in September. Yes, just as in recent years, many of the movies that gained high acclaim from the Academy of Motion Pictures were shown here in T-ride—either as premiers or sneak peeks—during the Telluride Film Festival (TFF) long before they were officially released. Telluride's selection of films seems to be filled with Oscar contenders more so than the lineups presented at other renowned film festivals in New York, Venice and Toronto.
Much of the Oscar buzz takes place before and after this annual awards show. I was thrilled to tune into CBS Sunday Morning, one of my all-time favorite TV shows, to see Monument Valley:  Mother Nature's scene stealing movie star, last Sunday. It was a wonderful segment that featured the extraordinary sense of place of this iconic site and the many Oscar-worthy movies filmed there including "The Searchers," "She Wore a Yellow Ribbon," "Back to the Future," "Forrest Gump" and many more. This majestic landscape has appeared in dozens of films as well as countless commercials. Almost a half a million visitors go to Monument Valley every year, largely because of the prominence it has enjoyed in the movies. Thanks to Harry Gouding and his wife, Leone (known as Mike), film director John Ford discovered Monument Valley and its perfect setting for great western movies and feature films. This was highlighted in the CBS piece although Goulding's Lodge and its terrific Trading Post Museum, which also showcases the history of movie-making in the area, were scarcely mentioned.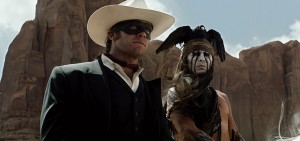 "Hi-Yo, Silver! Away!"
Such are the famous words shouted by the Lone Ranger as this masked man gallops off on Silver, his handsome white stallion, the same words shouted by kids throughout the decades as they head off on an adventure. Ever since the original radio show aired in 1933, through the popular TV series of the forties and fifties, across the pages of comic books and then highlighted in films, "Hi-Yo Silver!" has captured the excitement and dashing spirit of the West for the better part of a century.
Spring has sprung here in southwestern Colorado, although there has been snow on the Peaks these past couple of nights and frost on the ground this morning. These dustings just make for prettier panoramas, something we're not lacking here in Colorado. The leaves have popped within the past week and the tourists are beginning to arrive from nearby and far flung destinations.
If you're looking to maximize your sightseeing and experience something real old timey in the process, I recommend you book a trip on the Durango & Silverton Narrow Gauge Railroad, one of the most exciting train rides in the world. The train rattles and chuffs along tracks as narrow as 36 inches wide (along the mountain passes) from May through October, offering breathtaking views to visitors from all over the world.
The first train arrived in Durango, Colorado during the summer of 1881. Within less than a year, workers managed to lay track all the way to Silverton, an almost unfathomable feat accomplished largely by the quest for gold and silver up in the mountains. Yes, these were the boomtown days of mining and during that time this narrow gauge railroad between Durango and Silverton played a pivotal role.
Once you're on one of the classic rail cars peering out at towering views over the Animas River Canyon, it feels as though not much has changed since the old days. If you're in one of the open-air coaches (probably the most fun), you still get covered in soot and can feel the brisk mountain air sweep your face. The train still has to stop to have its water tank filled, a pleasant delay that gives you more time to take in the surrounding nature, much of it punctuated by the mineral-rich waters of the Animas.
Are you familiar with those digital photo frames that display a continuous stream of select images? Well, I was back east in October visiting my parents and brought one of those frames to them as a gift. We had to enlist outside help (thanks Brian) to transfer my images onto the frame (I'm so eighteenth century), but once it started to flash our faces across the screen, we all beamed. My father especially glowed since he was finally able to see himself backdropped by a parade of images from the Grand Canyon and other notable sites in the Southwest. It was like bringing him back to the South Rim of the Canyon to gaze over the vastness and grandeur of what is most certainly our country's greatest treasure.
We embarked on our two-week Western Jamboree just about a year ago. Fall and even winter are two fantastic seasons for visiting many of our National Parks, especially the Grand Canyon. During these times the wondrous play of light combined with a lack of crowds make these sites even more enchanting. The focal point of our trip was to be the Grand Canyon, a place my father always dreamed of seeing. At the age of eighty-four, we were ready to grant him his wish.