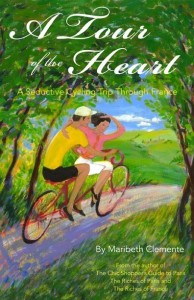 My new book, published in the fall of 2012, is A Tour of the Heart:  A Seductive Cycling Trip Through France. Click here to preview it and download excerpts.
Books are available in select bookstores across the United States; please ask your bookseller for it if you cannot readily find it on the shelf.
YOU CAN ALSO BUY IT AT AMAZON NOW as a paperback or as an eBook on kindle. 
Signed copies may be shipped to you by Alpen Schatz, my favorite European-styled boutique here in Telluride. 
Like A Tour of the Heart on Facebook to keep up with news and to find out about free eBook giveaways.
Read below to find out about my shopping and touring books to Paris and the French provinces.
"Each shop and its products (fashion, chocolates, porcelain, antiques) are described in tempting detail…" —Library Journal
"Using her vast insider's knowledge of Parisian culture, author Maribeth Clemente shares her edge on the best boutiques, restaurants, wine cellars and even English-language bookshops in the French capital, as well as the best flea markets and antique shops…Any Francophile serious about shopping must have this book."—Chicago Tribune
"The Riches of Paris is an indispensable guide for making your visit to Paris enjoyable and unforgettable."—gettingaway.com
"The author also offers recommendations on hotels, restaurants and cafes around the city for the complete Parisian experience. All and all, do not consider a trip to Paris without it."—The Express-Times
NEW AS OF APRIL 2014:  The Riches of Paris:  A Shopping and Touring Guide is now available as an eBook on amazon as well as on a variety of other platforms.

Long considered the epitome of all that is chic, glamorous, and desirable, Paris is every shopper's dream. But even the most indefatigable shopper is sure to be overwhelmed by the vast selection of boutiques, big and small, world renowned and neighborhood favorites. In The Riches of Paris, Maribeth Clemente shares her insider's knowledge of the choicest boutiques, restaurants, wine cellars, and auctions to help you find endless treasures. Whether you're looking for designer fashions, Limoges china, the finest perfumes, the best Bordeaux or just browsing, The Riches of Paris is an indispensable guide for making your visit to Paris enjoyable and unforgettable.
The Riches of Paris is filled with recommendations for the City of Light:
The most luxurious spas and beauty tips from Paris's top salons and instituts de beauté.
Where to go to learn not only what to wear, but how to wear it.
Choose from over 160 varieties of tea at Paris's premiere tea dealer.
The best addresses in Paris for cosmetics and perfumes.
The best buys on children's clothes.
The oldest, most respected manufacturers of silk, jewelry, handbags, and lingerie.
How to best shop for antiques and bric-a-brac in Paris and at the famed Paris flea markets.
Hotel, restaurant, café, and tour recommendations that create a complete Parisian experience.
Straight from the Author
You can purchase and learn much about The Riches of Paris by clicking on the book jacket cover above. You'll find one of my favorite establishments, however, below. Note that here I've included photos, one of the great advantages of the Internet. Keep checking back since I'll soon be adding many more.
Wolff & Descourtis
Absolutely one of my favorite boutiques in Paris—and it's not just because of Victoria Wolff, the lovely Botticelli blonde who runs it. I have ruined myself on the purchase of many beautiful scarves and shawls from this store, but I have no regrets, since I've worn them all frequently and know they will be part of my wardrobe forever. Like works of art displayed in a gallery, a different selection of kaleidoscope-colored scarves and shawls hangs in the window each new season. Creaky floors and big wooden tables make you feel as though you have just stumbled upon a nineteenth-century fabric store. And in many respects you have; Wolff & Descourtis was founded by a certain Monsieur Wolff back in 1875.
Today, Victoria spends much of her time poring over old textile documents in order to re-create what will become Paris's next best thing in scarves and shawls. Whether the motif is an artistic interpretation of an elephant (symbol of abundance and la force tranquille) or more traditional flowers, the end result is always captured in the finest weaves of silk, wool, cashmere, velvet, or a blend of any two. Victoria works with ateliers in Lyons and Como to achieve these superior quality fabrics, which are later cut into the quintessential French accessory—a scarf or a shawl. Prices begin around 200 euros for a fine wool-and-silk blend challis shawl and escalate to almost four figures for a hand-painted jewel-colored velvet creation.
Looking for a totally outrageous and divinely coquette accessory for you or your home? How about a handbag in the form of a Folies Bergères-type bustier? Each piece is entirely handmade and a unique work of art. You could wear it on your wrist or pose it on your dresser as a jewelry case.
And there's something for men here, too. As a nod to her British mum, Victoria decided to showcase London's celebrated fragrances from the 250-year-old house of Floris. The soaps are so glorious that they will perfume your bathroom for weeks. Other delightful Floris products sold here include highly concentrated bath salts, shower gels, eaux de parfum, and eaux de toilette (even No. 89, which was created for James Bond in 1955). But I found their parfums de bouche, or mouth perfumes, to be the most intriguing; Prince Charles prefers the rose mouthwash.
"Part shopping guide, part travel guide, part cultural history … a rich mixture indeed for the Francophile." —The New York Times
"Its conversational tone makes it fun to read, even if you're not shopping soon." —St. Louis Post-Dispatch
"Maribeth Clemente's attention to detail makes The Riches of France a superb companion for anyone visiting the French countryside." —La Belle France
If Paris is the showroom of France, the provinces are its vast warehouse.
NEW AS OF APRIL 2014:  The Riches of France:  A Shopping and Touring Guide to the French Provinces is now available as an eBook on amazon as well as on a variety of other platforms.
Whether you're a shopper, a browser, or a traveler with a love of all things French, this is your one-of-a-kind guidebook to the culture of regional France represented by the products and centuries-old craftsmanship of each region. At prices lower than what you would pay in Paris or the United States, you'll find endless treasures as you tour boutiques, small factories, artisans' workshops, and wineries and distilleries:
artwork on the Cote d'Azur
tapestries in the Limousin
silk clothing in Lyons
Moorish music boxes in Corsica
wine in the Loire Valley
glasswork in Lorraine
and much more, including "the best of the provinces" in Paris.
Complete with details on exchange rates, shipping, French customs, touring, and restaurant and hotel selections, The Riches of France is an indispensable sourcebook for exploring every province in France.
Straight from the Author
O.K., The Riches of France is not straight-off-the-press. It is, in fact, out of print and even I'm sometimes a little challenged finding pristine copies. (Yes, authors have to buy their own books.) You can buy a used book and learn more about this one-of-a-kind work by clicking on the jacket cover above. You won't regret it. The Riches of France is a classic and most of the establishments I included have been around for centuries. I don't know any other book like it. This is perhaps the book I'm most proud of so, of course, I'm working on an update.
Below you'll find one of my favorite establishments as an example of the sort of entries you'll find in this book.
THE WESTERN LOIRE—LA BAULE
Le Castel Marie-Louise
Originally the private home of François André, the man who developed La Baule as a fashionable seaside resort in the early 1900s and also founded the exclusive Lucien Barrière hotel chain, Le Castel Marie-Louise is certainly the most charming luxury hotel in the area. One could easily imagine Monsieur André's wife, Marie-Louise, for whom the hotel has been named, nodding approvingly at the choice of delicate floral prints and antique furnishings that adorn the hotel's guest rooms and dining room. The ambiance is similar to what you might experience in a typical English manor, although instead of looking out upon a country landscape, you gaze out at the great expanse of the Atlantic. The main dining room becomes awash with such an intense amount of light that even on a grey day the luminous view can lift your spirits. With a menu composed of the freshest products that the region has to offer, you can experience both the beauty and the bounty of the Atlantic at this fine seaside establishment.
Four-star Relais & Châteaux Hotel/Restaurant: Expensive