17 Jul 2013, 1:29pm
Colorado Denver Hotels Pet-Friendly Travel The Rockies The Southwest Travel Utah: Colorado Denver Hotels Pet-Friendly Travel The Rockies The Southwest Travel Utah
by
maribeth
2 comments
Warning:  This story includes tons of adorable photos of pups.
Woof, woof. Bark, bark. I've never seen so many happy dogs in my life as those that have padded, trotted and trounced through our little mountain town of Telluride, Colorado these past weeks. Little, big, short-haired, long-haired, well-groomed or scruffy, they all have an air de vacances, a certain joie de vivre that makes it clear they're happy to be a part of their mom and dad's vacation as well.
As a confirmed cat person, I hadn't had much experience traveling with dogs up until over a year ago when I went on a road trip with my friend Mary Dawn (MD) and Valentino, her beautiful Bernese Mountain dog. Our travels, which I recount in my story, Travels with Valentino, culminated with the choosing of DaVinci, a new brother for Tino. As of last fall, we thought DaVinci was big enough to accompany us on a couple more trips:  one to Moab and Salt Lake City, Utah; the other to Denver, Beaver Creek and the Vail Valley. I tell you, these dogs get around. And wherever they go, they are greeted with a fanfare of enthusiasm that makes me happy to just be tagging along. Here are some of the highlights from the best pet-friendly properties we visited on our jaunts:
7 Jul 2013, 3:38pm
Art & Culture Colorado Four Corners Hotels Telluride The Southwest Travel Utah: Art & Culture Colorado Four Corners Hotels Telluride The Southwest Travel Utah
by
maribeth
leave a comment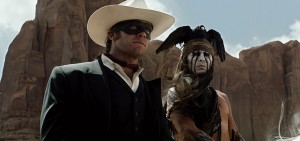 "Hi-Yo, Silver! Away!"
Such are the famous words shouted by the Lone Ranger as this masked man gallops off on Silver, his handsome white stallion, the same words shouted by kids throughout the decades as they head off on an adventure. Ever since the original radio show aired in 1933, through the popular TV series of the forties and fifties, across the pages of comic books and then highlighted in films, "Hi-Yo Silver!" has captured the excitement and dashing spirit of the West for the better part of a century.
7 Jun 2013, 1:15pm
Colorado Mountain Living Outdoor Adventures Telluride The Rockies The Southwest Utah: Colorado Mountain Living Outdoor Adventures Telluride The Rockies The Southwest Utah
by
maribeth
leave a comment
The rivers are running hard and fast in Colorado and other parts of the West right now. As our snowpack melts, creeks and streams swell and massive quantities of water surge into rivers, splicing through red rock canyons and verdant riverbanks. Rivers such as the Gunnison and the Colorado render near barren lands fertile thanks to clever irrigation systems, many of which were created over a half century ago. Western states such as Utah, Nevada and California delight in and depend on Colorado's winter snowfall. Indeed, the appetite for this pristine supply of water has become so great that by the time the mighty Colorado arrives in the Gulf of Mexico, it is nothing but a trickle.
Before this happens, however, our rivers provide fabulous recreation for river runners—from serious oarsmen to casual day trippers—all in search of a good time. Whether you're looking for a jaw-dropping adventure over gnarly rapids or a casual float along a wide swath of still waters (often possible late summer), rafting on the river promises some of the best fun around. And you can bet that views from the water are often more glorious than those appreciated from land.
I try to get out on the river at least once a year, not much in comparison to many people that head out on week-long river trips as soon as ski season ends. But for some, a river rafting expedition represents a once-in-a-lifetime occurence. Either way, river trip memories rank as some of the best.
22 Apr 2013, 1:26pm
Hotels Restaurants Skiing & Snowboarding The Rockies Utah: Hotels Restaurants Skiing & Snowboarding The Rockies Utah
by
maribeth
leave a comment
I've been thinking a lot about Utah lately. Maybe it's because although we've had a ton of snow here in Colorado, it seems as though the Utah ski resorts have even bigger snow totals, especially once you consider their base. It was almost a year ago that my boyfriend and I enjoyed a spectacular weekend of spring skiing at Snowbird and now we're itching to go back.
The year before that, we called Sundance home for five days and reveled in experiencing Utah's top ski resorts including Deer Vally, Park City and the Canyons. Then and also last year, we drove through Heber City, a vast, flat area only twenty minutes from Utah's world-renowned mountain destinations and towering peaks. Settled by members of The Church of Jesus Christ of Latter-Day Saints in the late 1850s and named after a Mormon apostle, Heber Valley of today still appears pastoral and low-key. Dairy farming continues to reign supreme, a tradition started by Swiss settlers ages ago. Ranchers claim a fair piece of action as well.
15 Oct 2012, 3:09pm
Art & Culture Colorado Four Corners Hotels Restaurants The Southwest Utah: Art & Culture Colorado Four Corners Hotels Restaurants The Southwest Utah
by
maribeth
leave a comment
I'm feeling a little sentimental these days. Lately this golden season has flooded me with memories of two significant trips I took in the West at this time of year. The first occurred eleven years ago when I discovered the penetrating red rock landscapes of Moab, Utah during a road trip with the goal of where to settle in the West. The second happened in Monument Valley when I accompanied my parents on a trip-of-a-lifetime through southern Utah and then down to the Grand Canyon. (Visiting the Canyon had always been a dream of father's—little did he know he'd end up marveling at the awe-inspiring monuments of Monument Valley just as much.)
At each of these high desert destinations, I felt and continue to feel humbled by the panoramic vistas seemingly painted in every shade of red throughout this arid land. Here buttes, spires and pinnacles tower over you as though nature's standing guard in what sometimes looks like one of America's last great frontiers. It's no wonder some of the most iconic images of our country may be found in Moab and Monument Valley, Utah. The greatest westerns ever made were filmed here, specifically at two lodges that continue to pay tribute to the rich history of movie-making that occurred around their properties:  Red Cliffs Lodge in Moab and Goulding's Lodge in Monument Valley. The landscapes at and surrounding these ranches have, in fact, been so well preserved that movies, TV shows and commercials continue to be filmed here today. (Johnnie Depp was just at Goulding's last spring filming the new version of "The Lone Ranger.")
6 May 2012, 4:42pm
Hotels Restaurants Spas The Rockies Utah: Hotels Restaurants Spas The Rockies Utah
by
maribeth
leave a comment
Since I moved to the Rockies nearly ten years ago, I've been cultivating a short list of renowned resorts that I've wanted to discover. (Anyone that reads this blog with any frequency knows that I love fine hotels and more importantly, the ambiance they create.) Let me see. There's The Broadmoor in Colorado Springs, Sonnenalp in Vail and Sundance and Stein Eriksen Lodge in Utah. These are what I consider to be the crème de la crème of the old, established Rocky Mountain resorts and by the time I post this story, I will have experienced all of them. (Feel free to let me know if I'm missing any from this grouping! Yes, I know there are some great lodges in Montana and Wyoming, but I'll save them for another day.)
There's a reason these establishments have been world-renowned for decades. Actually at each, you can count many reasons, the biggest one perhaps being that it's easy to create memories at these properties, unique moments that remain with you forever thanks to the overall feel of the resort. Details such as fresh flowers, hand-carved furnishings, a saloon with a creaky wooden floor and the uniforms sported by the people that work there also help to transport you to a different place.
26 Apr 2012, 4:08pm
Restaurants Skiing & Snowboarding The Rockies Utah: Restaurants Skiing & Snowboarding The Rockies Utah
by
maribeth
leave a comment
You know what's great about sore legs? Afterward—once they're no longer sore—they feel strong and toned.
That's how mine are feeling today and I'm loving it. I had quite the workout over the weekend, maybe the biggest of the season. It's no wonder. I met up with my oldest brother, Frank, and skied with him, some of his buddies and my hunny for two days in Snowbird, Utah. With them, I pushed the limits of my comfort zone on one of the best mountains in the West. And what an initiation it was into the big leagues. These guys don't mess around.
I had heard about Snowbird, Utah for years, mostly from Frank who goes there nearly every year. I was eager to discover it, especially since most of the ski resorts in Colorado have ended their seasons. I love spring skiing in April once Telluride has closed and normally meet up with another brother, David, and his wife, Geri, in Aspen. Or I head to Vail. Although this year I was smart to pick Snowbird since this extraordinary mountain still boasts a near ninety inch base.
And whoa, what snow! We didn't see a single bare spot. They have enough to push around until well into May. "Continuing our tradition of offering the longest ski season in Utah, Snowbird is prepared to stay open for skiing and snowboarding as long as the snowpack permits," says Dave Fields, V.P. of Resort Operations.
18 Feb 2011, 10:59pm
Hotels Outdoor Adventures Restaurants Skiing & Snowboarding Travel Utah: Hotels Outdoor Adventures Restaurants Skiing & Snowboarding Travel Utah
by
maribeth
2 comments
Romantic getaways can take many forms. For my boyfriend, Steve, and me an escape centered around skiing works well for us, no matter what destination we chose. This time we skied four days in Utah, testing and comparing four different mountains, a terrific outdoor adventure that made our many candlelight and fireside moments feel all the more rewarding.
It's great when you share a passion with someone and for both of us, skiing creates a powerful bond whether here in Telluride or at other resorts. But as with all aspects of a relationship, compromises must be made. (Hear that Steve!?! Only kidding. Hubba-hubba.) Fortunately we were able to strike the right balance during this trip, one that allowed Steve to obtain his share of challenging skiing and me to fulfill my all-important quest for an authentic travel experience.
Kudos to Steve for having selected Sundance Resort, the dream that Robert Redford realized in the mountains of Utah over four decades ago. We made Sundance our base and explored Park City Mountain Resort and Deer Valley Resort from there. (The Canyons came on the last day after spending a night in Park City.) We quickly concurred that that was the right formula for us since settling into Sundance made us feel like we were holed up in our own private retreat. (The big resorts at the bigger ski areas offer a more look-at-all-we-have-to-offer-you-here-in-the-mountains stay.)
We like to keep it simple, and at Sundance we discovered a warm and genuine atmosphere that celebrates the spirit of the West and its mountains. We immensely enjoyed our Mountain Suite punctuated by rough-hewn woods and warm, woolen accents. Here we made roaring fires (no gas flames!) and sipped hot chocolate in the quietude of our cozy space. But we didn't stay home long since we discovered much to do and admire within this beguiling resort. Oh how our senses were tickled at every turn. We spent our first night whooping it up at the Owl Bar, a warm, western saloon of sorts that boasts great live music and tasty pub food. Best of all though it exudes a marvelous mountain panache that can only be achieved by the right mix of locals and visitors.
The ski hill at Sundance appeared more regional—at least on the busy Saturday we were there—consisting of lots of school kids from the nearby big city and its environs. They reminded me of the snowsports enthusiasts I encountered at the little ski area I grew up on in western Massachusetts. I felt totally rattled by them, mostly because these novice skiers and boarders crisscrossed the bunny slopes like rabbits darting about for food. Steve and I both agreed that it's likely best to ski Sundance during the week, something that was confirmed when we left the resort the following Monday when we noticed that the parking lot was still empty after 10 a.m.,  This made us feel wistful about coming back on a weekday especially since Steve ended up rating Sundance as having the best expert terrain of all the resorts we tested throughout our trip. Steve had sampled most of these runs before I headed out on our Sundance ski day. I thought they were awesome, too, until I I found myself—mid-way down one of the runs—doing loopty-loops in a gully made even more disorienting by flat light. Here, I experienced my first meltdown of the season, but you have to have at least one on a ski vacation, don't you?
After that adventure we were ready for après-ski which we happily found at the Owl Bar, perched at a small bistrot-like table that offered views of both the roaring fire and the slopes at twilight. We recharged over beers and nachos and decided to hit the slopes again, this time for night skiing, another activity that reminded me of my childhood ski excursions back east. It was a blast. Just being in the mountains at dark, sailing through the sky on a chilly chairlift exclaiming over the interplay of light on the peaks, against the slopes and within the trees provided us with enough magical memories for the whole ski vacation. That's my idea of romance! And skiing down the shadowy trails together proved to be a real hoot for us both. By night and day, Steve and I agreed by the end of our trip that Sundance furnished the best views of all the resorts we visited.
After a quick change back at our digs we scooted down the snowy trail to an elegant dinner at the Tree Room, Sundance's signature restaurant. I marveled at the handsome decor, truly one of the most inviting dining rooms in the West. Steve and I sat side by side on a black leather banquet where we took in a perfectly-lighted scene that paid hommage to western and Native American culture. Sepia-colored stills from "Butch Cassidy and the Sundance Kid" hang on old barn siding throughout much of the resort including in the Tree Room. The waiters sport jeans and western shirts, selected by Mr. Redford, and serve with a casual elegance that most fine hosts and hostesses aspire to at home. Aside from what we savored in our plates, the show stopper here is Mr. Redford's personal collection of Native American treasures. An enormous Chief's Blanket, circa 1890, covers one whole wall. Huge Hopi baskets and Navajo weavings pepper the rest of the room while an immense glass showcase of Hopi Kachinas serves as a brightly-colored room divider for all to admire. I would return to this alluring restaurant any day just to have the opportunity to gaze at these exceptional crafts a while longer. (And also to have the chance to bump into Robert Redford, but of course.)
We drove (only forty minutes) to Park City the next day, happy to discover a new ski mountain and more than content with the idea that we'd be returning to our special enclave that evening in Sundance. Upon arrival at Park City Ski Resort it felt like we had landed at a big city ski area yet without all the inconveniences of big city life. We had debarked at a well-oiled machine where despite its size, we were able to pull right up to a slopeside parking lot and find our way up to the top of the mountain in an easy, breezy manner.
Steve and I were thrilled by both their famous six-pack chairs and how easy it was to find our way around their slopes. The terrain didn't pose enough of a challenge for Steve but we both enjoyed the wide, cruiser runs that cut great swathes across the mountain. These expansive trails seemed especially conducive to Utah's big, loaf-y Wasatch Mountains, a range typified by a smattering of a variety of trees and bushes quite unlike the groves of aspen and pine of our native Colorado. I was delighted to see vestiges of Park City's mining days so well integrated into the overall look of the ski mountain and was especially pleased to learn that Mid-Mountain Lodge, where we stopped for lunch, was a recently renovated historic miner's lodge. Here we met up with Steve's mom—the catalyst for our Utah trip—a super gung-ho skier that had traveled to the area with her ski club. We skied the rest of the afternoon with her and her boyfriend and then headed into the historic Old Town for some après-ski and Super Bowl watching. Despite my best intentions, I couldn't find a minute for boutique browsing. But Main Street Park City did look pretty darn cute.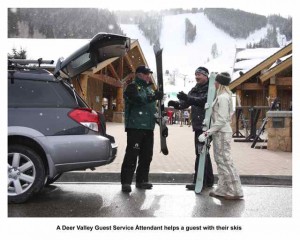 Our third ski day brought us to Deer Valley where we couldn't help having big expectations. As one of the highest ranked ski resorts in the country, we couldn't wait to see what we'd discover here. To me, it seemed to be all about the amenities and first-class service. I was especially impressed with the dining at Empire Canyon Grill where we lunched amidst a tony crowd of skiers relishing burgers and brats, pastas and paninis, chili and fries and Deep Powder Carrot Cake. We served ourselves cafeteria-style although efficient workers stood at the ready to whisk away used items whether summoned or not. Little details such as ceramic pots of mango chutney at the condiment stations and crisp paper napkins and glossy matches emblazoned with Deer Valley could not possibly go unnoticed along with the lodge's delicious selection of culinary offerings. Their ladies' room—replete with hand cream and fresh floral bouquets—nearly seemed over the top but believe me, I'm not complaining. And throughout the resort, employees expressed eagerness to respond to your every need. Friendly staffers were positioned at the over-sized trail maps at the top of the lift, for example, prepared to facilitate your mountain experience. And I've never seen such a clean cut bunch—even the lifties. I'd go so far as to call them preppy. Give me a ski bum Rasta lifty any day though. But isn't it nice, I thought, that there's something for everyone's taste? I'm sure there are lots of people out there that require a more polished ski experience, light years away from the ski culture that permeates other mountain towns.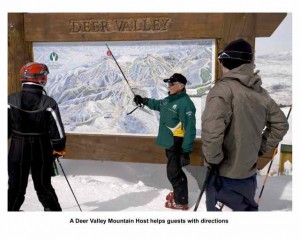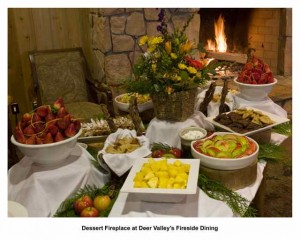 As for the skiing, Steve and I found it to be perfect for people looking for a good time on the snow without worrying about breaking much of a sweat. (This is especially the case for those that are snowboarder adverse since Deer Valley remains one of only a handful of skiers-only resorts in the country.) Steve agreed with me when I ascertained that Deer Valley is as suburban as Park City is city-like. Indeed, you can actually drive up to a good number of the mountains that encompass Deer Valley Resort. Our many chairlift rides took us over hills and dales speckled with sprawling hotels and grandiose mountain homes. Had we had more time, I would have insisted we do a pub crawl of sorts to some of the high-end establishments along the slopes, a plan best carried out if your place of lodging happens to be slopeside as well.
The snow began to fall by our last run at Deer Valley, making us all the more excited about skiing the next day—the last day of our stay—at The Canyons. It was dumping by the time we checked into the Hotel Park City, a high-end establishment, conveniently located nearly equidistant between Park City and The Canyons. We also discovered that it was situated close to Steve's mom's hotel, a coincidence that proved all the more advantageous when we had her over to our well-appointed Cottage Suite later on for wine and cheese. It's always nice to do "a night at home" when you're traveling and it worked out beautifully here within our elegant sitting room on what turned out to be a super snowy evening. We waited until Steve's mom left before hitting the large, outdoor hot tub, perfectly positioned on the deck overlooking an illuminated Park City Ski Resort which sparkled in the night's sky. The twinkling lights on the ski hill and the sound of the snow softly falling around us made our soak all the more dreamy.
We pulled up to The Canyons by 8:15a.m. the next day. Steve had made it clear that there'd be no poking around since it was to be an extraordinary powder day graced by bright blue skies, a beaming sun and crisp temperatures. Our Cabriolet ride—a special feature of The Canyons that transports you from the parking lot to the base of the mountain—added to our festive mood. Even with the early start, the line at the Red Pine Gondola appeared long. It moved very quickly though and before we knew it we were well up on the hill, primed for first tracks. Steve split off like a ski racer breaking out of a start house while I met up with his mom for some less aggressive fun. And we sure did find it! After cutting through the soft stuff (nearly a foot) on some blues, we enjoyed some nice, fluffy runs on the blacks. We turned out to be great ski companions and were grateful to break out on our own until we met up with Steve later in the morning. He was stoked since he had first tracks on some terrific expert terrain in an area of the mountain that had been graced with some sixteen inches.
After a hearty lunch together at the Red Pine Lodge, the three of us skied all the way to the bottom to say goodbye. It was hard to leave since the snow was so fantastic, it was a brilliantly sunny day and there was more of the ski mountain and resort to explore. We both decided that we'd definitely come back to The Canyons soon.
We shared impressions about what we had experienced in those four action-packed days much of the ride home. We understood more than ever why so many people chose Utah for their ski vacation. Indeed, there are many resorts to take in within a short drive of a major airport. And as we discovered, there's clearly a resort to fit almost everyone's likes and loves. Still though we felt beyond grateful to return to our beloved Telluride, our hometown resort. Living and working in Telluride and skiing our mountain more than fulfills our criteria for a happy alpine lifestyle. More on that later.
For now we look forward to many more great ski days in Telluride and elsewhere (yes, maybe even in the form of a romantic getaway!) before the end of the season.
Thank you to Sundance Resort, Park City Mountain Resort, Deer Valley Resort, Hotel Park City and The Canyons for the above photos.