18 Aug 2012, 4:08pm
by
maribeth
9 comments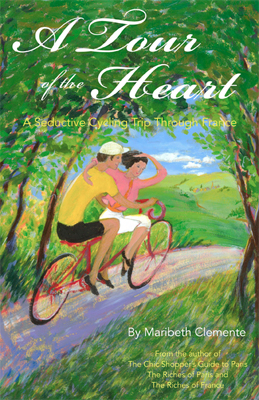 Books are sold in bookstores and other non bookstore venues across the U.S. Please ask your bookseller for it if you cannot readily find it on the shelf. YOU CAN ALSO BUY IT AT AMAZON NOW as a paperback or as an eBook on kindle. Signed copies may be shipped to you by Alpen Schatz, my favorite European-styled boutique here in Telluride. 
Like A Tour of the Heart on Facebook to keep up with news and to find out about free eBook giveaways.
A Tour of the Heart: A Seductive Cycling Trip Through France, part memoir, part love story, is a romantic ode to the most visited country in the world.
Told by a proudly-feminine and sophisticated travel writer, an expert in all things French, searching for harmony and true love with her super-cyclist boyfriend. A Tour of the Heart will keep you bien captivé through its many twists and turns.
A Tour of the Heart highlights the life of a travel writer, France, cycling, food and wine, the Tour de France and the joys and travails of traveling à deux. The freedom, the challenges, the ups and downs, the discoveries around every bend, pedaling the bucolic roads of France is an adventure—and so is their love…
"Maribeth is a first-rate tour guide."
Associated Press
CONTENTS
Part One
Putting the Wheels in Motion
Shifting Gears
Storybook Alsace
Beautiful Burgundy
The Sun Doesn't Always Shine in Provence
Navigating Languedoc-Roussillon
Living Large in the Southwest
Room with a View in Versailles and Not So Romantic Paris
Part Two
Prelude to the Tour
Alpine Adventures
Almost Solo in the Loire
Paris and a Triumphant Finish
Epilogue
Acknowledgements
Click here to read a story from THE TELLURIDE DAILY PLANET
Click here to read a story from TELLURIDE INSIDE AND OUT
Click here to read a story from THE SARATOGIAN
Click here to read Five Questions from The Troy Record
Click here to read a story from Telluride Magazine (go to p. 30 of their latest issue)
Click here to read a review from FRENCH VILLAGE DIARIES
CLICK HERE TO DOWNLOAD EXCERPTS FROM A TOUR OF THE HEART
Please note that the below map is featured in the book, however, there will be more detailed maps of all the regions covered in A Tour of the Heart at www.atouroftheheart.com which will go live early 2013.